ETTLIN LUX® textiles for glass and acrylic
Fascinating 3D light effects embedded in glass or acrylic: Mood.
Mood textile in glass backlit with static LEDs

The unique light effect merges with glass and acrylic
Visual depth in glass given by ETTLIN LUX® textiles
The ETTLIN LUX® Mood textile (1368) offers a fascinating 3D depth effect in interaction with LEDs and impresses with its clarity at the same time. Technically appealing and a little frisky, this type of fabric offers the absolute LUX effect. Its processing possibilities are wide-ranging: embedded in glass or acrylic or simply as textile covering.
Some features that characterize Mood:
UV resistant
Opaque
High colour and light fastness
International patented
Mood with Glass or Acrylic
Mood 1368 is also convincing when turned off.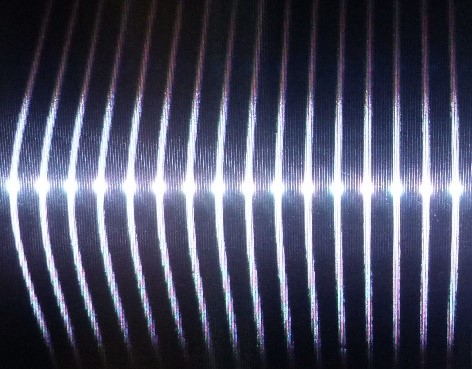 Flexible Light Effects
Mood is opaque and convinces with its decorative surface.
The textile Mood is mainly used for laminating in glass and acrylic or as textile covering. With intense effect lines, the light sources are most clearly visible.
Width: 200 cm ± 3
Usable width: 195 cm
Length: 5 rm | 10 rm | 30 rm
Special dimensions and cuttings on request
Mood: Textile for glass and acrylic
Learn more about ETTLIN LUX® Mood
Choose yourself how you would like to learn more about Mood (1368): In the product data sheet, with the presentation tool – in the form of a multi-part sample frame set or via free and handy textile samples.
Cinema entertainment in a new dimension
Mood textile in glass brightens up interiors
Three round cutouts in the restaurant area of the Cineplex Baden-Baden provide a special eye-catcher. To backlight these spaces, three square glass elements were laminated with ETTLIN LUX® Mood. Laminated into two 6 mm thick glasses, the textile creates a depth effect with light that makes the room appear larger.
Learn more
The ETTLIN LUX® light effect must be seen in person. This is why we have developed the sample frame set for 295,- EUR as an ideal presentation tool.
Hint: turn the back panel around, and design your own light effect on the empty surface.
Other applications of our textiles
We create products that become interior design eye-catchers.
Are you looking for something to highlight your interior design?
We support you – from the idea to realization.