Multi-faceted mirror wall with effective illumination creates a sophisticated room and project design.
LEDs ON
With LEDs on the back plate of ETTLIN LUX® Mirrorglass, they achieve a three-dimensional lighting effect in the mirror image. The type of lighting design may be individually planned (static or dynamic).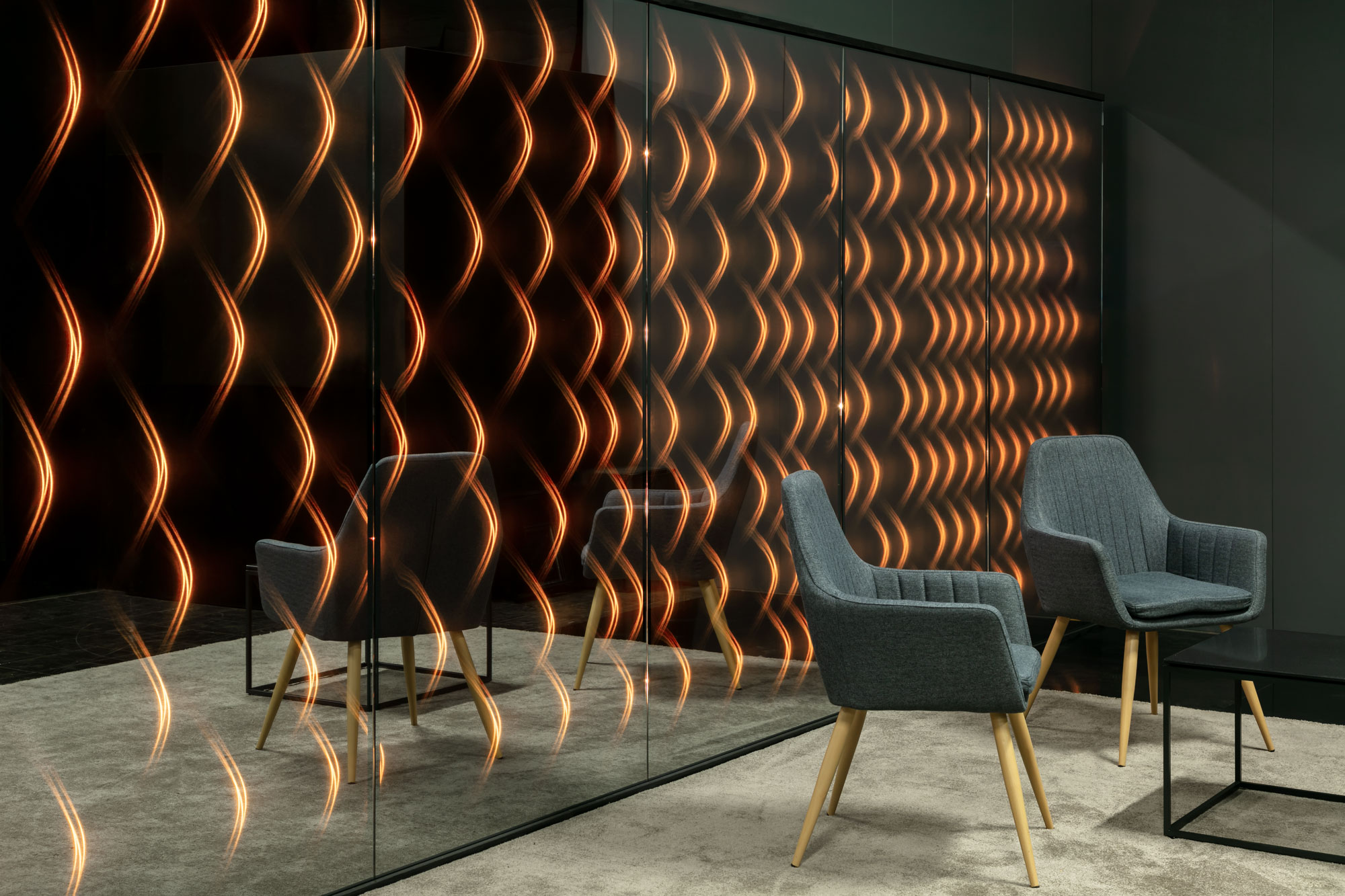 LEDs OFF
Even when switched off, ETTLIN LUX® Mirrorglass is a functional, minimalist design element.
Fascinating mirror views that create depth
With its minimalist design, ETTLIN LUX® Mirrorglass is the ideal choice for a wide range of architectural environments.
For the independent installation of a large mirror wall, we offer ETTLIN LUX® Mirrorglass. With this product you receive a mirror glass with textile completely made up in the desired dimensions for your own installation.
In focus: the fascinating light effect in the mirror image
The ETTLIN LUX® Lighteffect Mirror is a product that fits in with a wide range of design concepts. As a tailor-made solution it can be used in a wide range of applications:
Hoteldesign
Officedesign
Property areas
Retaildesign

For interior design concepts with eye-catchers
The ETTLIN LUX® Mirrorglass is an excellent choice for individual interior design. The Mirrorglass is available as standard in 6 mm thickness and completely assembled with textile in the measurements required. On demand we also provide the back plate with LED technology
and an attractive individual lighting design.
ETTLIN LUX® Mirrorglass with textile
Maximum size: 1900 mm x 3210 mm (W x H)
Float glass with polished or ground edges
Fire protection class: B1 "hardly inflammable" according to DIN 4102, part 1
Available in various glass thicknesses
Optional: Tempered safety glass
Optional: Back plate included individual LED technology
Do you plan a special project?
Our professional team of product designers and interior designers will be pleased to work with you to plan your project. Please do not hesitate to contact us!