A novelty in interior design: at imm cologne and Light+Building 2022, Ettlin Lux presents wall mirrors and luminaires with light-technical textiles that create an extraordinary depth effect.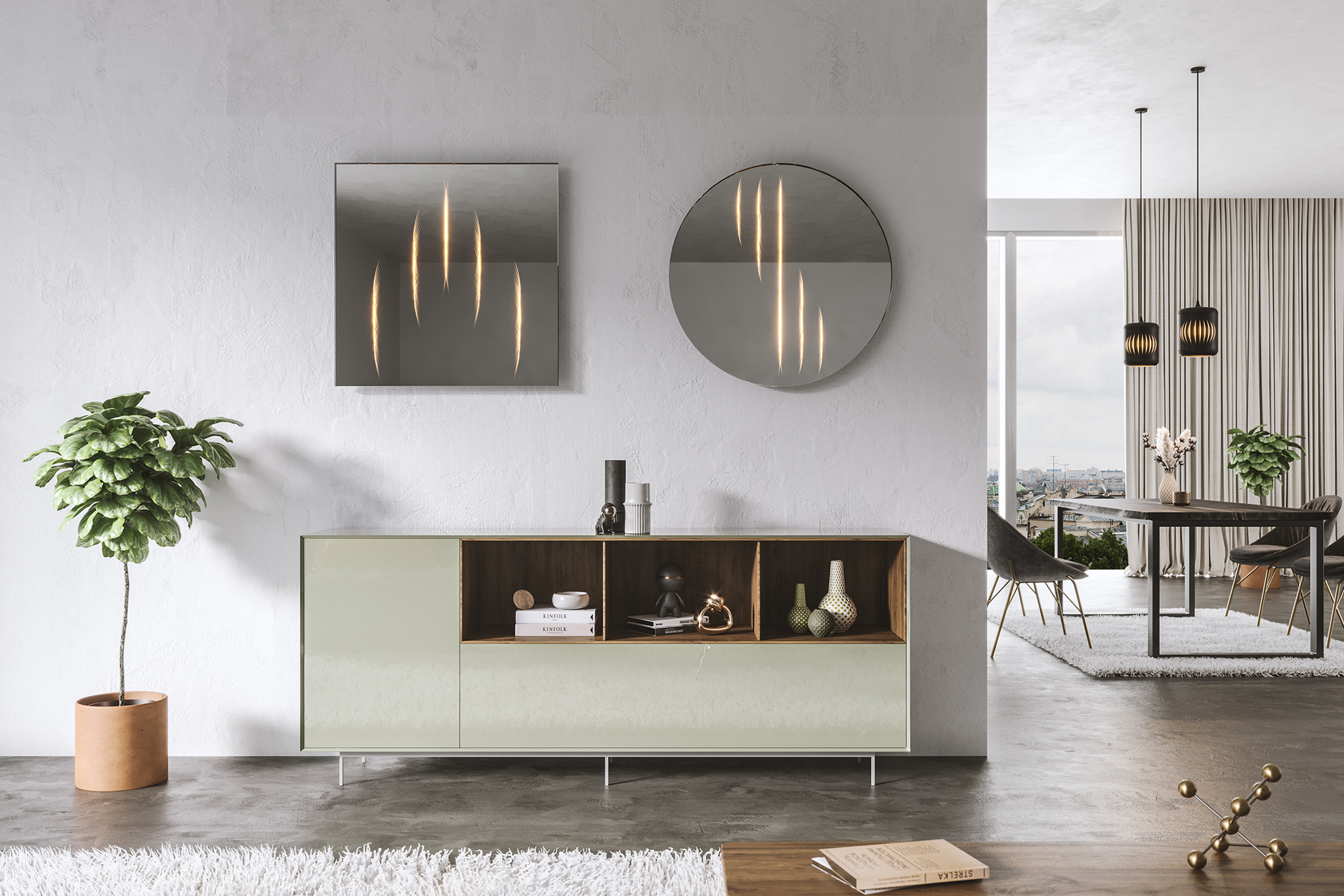 Unique, three-dimensional and effective in depth – these are the quality features that characterize all the new products from Ettlin Lux that will be presented at the two trade fairs imm cologne and Light + Building 2022 – all patented and Made in Germany. Ambiloom is the name of the versatile program consisting of wall mirrors in various sizes and shapes and a textile luminaire with ambient and direct lighting effects. The special technical fabrics developed by Ettlin Lux, equipped with LEDs and mirror glass can be made up, inspire interior designers in a wide variety of projects. Ettlin Lux has outstanding expertise in developing customized special solutions and enhancing interior design projects with simple means.
A spatial experience that is different
It is the creative approach with textile and light that distinguishes the brand Ettlin Lux. Designers in architecture and interior design are excited about using the products in a wide variety of projects and creating a spatial experience that is different.
From private homes to concert halls, the application possibilities are almost endless. Ettlin Lux starts 2022 with five new products: the Ambiloom wall mirror in various sizes and formats as well as Ambiloom Pendant, a textile luminaire with ambient and direct lighting. When switched off, the new products have a sophisticated, discreet look and blend harmoniously into a wide variety of interiors. It is the light that turns them into space-defining objects: When they are switched on, they unfold an distinctive lighting effect in the room. Deep inside, the light emerges and acquires a three-dimensional quality that atmospherically characterizes and enlivens a space.
Ambiloom and its variants
Quite naturally, the idea developed in the company to design other everyday products from the proven Ettlin Lux frame systems, which are always and everywhere needed: a mirror and a lamp. A mirror, which consists of a mirror glass made up with textile and equipped with LEDs. The three-dimensional effect is unique: "With a team of interior architects, product designers and engineers, we continue to work on finding new approaches to utilizing our textiles," says Oliver Maetschke, COO of the Ettlin Group, who has been successfully advancing the Ettlin Lux brand since 2010.

Minimalism and depth
The novelties include round and square mirrors, as well as a full-body mirror with ambient lighting. Ettlin Lux describes the innovation as an "ambient mural with the function of a mirror" that creates an almost magical lighting effect due to its integrated textile. Made of a minimalist, black matte anodized aluminum frame with a depth of 50 millimeters and textile embedded in the mirror glass, the lighting scenario unfolds via a touch sensor integrated into the frame. If desired, the mirror image glows ambiently or effectively.
"Our concept of offering ambient lighting design with function allows interior design projects to be enhanced with simple means," Oliver Maetschke is convinced. An eye-catcher in interior design is also the new luminaire Ambiloom Pendant 250. The discreet lampshade is made of Ettlin Lux textile Decolux and is backlit with LEDs. The dark fabric creates a very subtle lighting effect (ambient) and predestines the luminaire for its use in, among others, gastronomy areas, bars, lounges, stores, hotels and in private spaces. Ettlin Lux plans to launch the modular luminaire with light gray Decolux textile and matching "rings" on the top and bottom at a later date.
Smart textiles for lighting effects
Ettlin Lux offers special lighting fabrics for interior design, which are used in modular and customizable frame systems, luminaires and mirrors. Its specialty: the translucency and its simultaneous presence as a light object in the room. The latter is made possible by placing the LED light sources behind the fabric. In the color scheme of the textile – minimalist in light gray, black and white – depending on the color can create completely different lighting effects – dramatic, soothing, vitalizing or cool, to name a few.
Sie möchten den Artikel als PDF oder die Fotografien herunterladen?