UNIQUE LIGHT EFFECTS FOR SHOPFITTING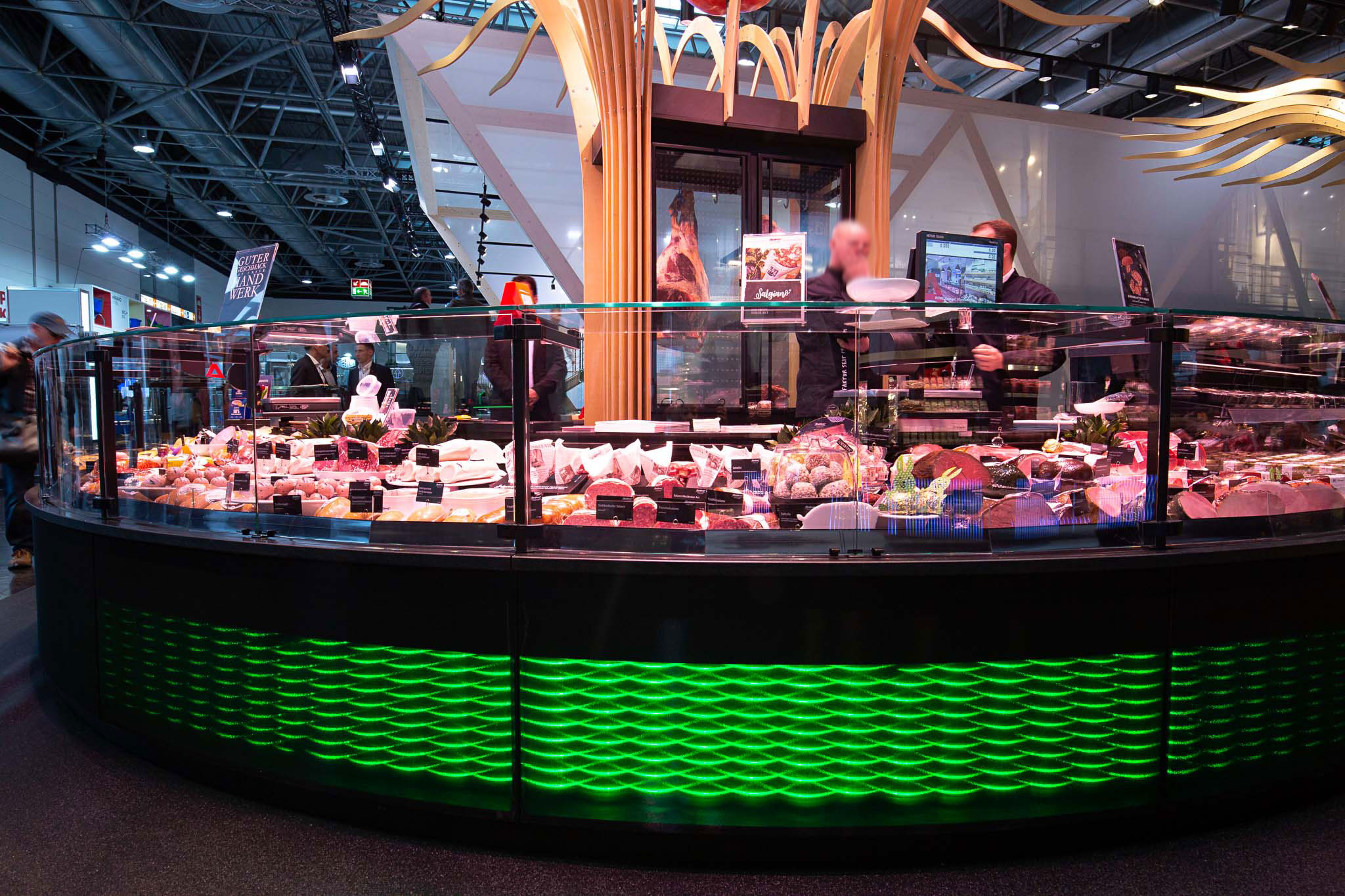 The counter of AICHINGER at the the fair with textile as lightning technology by ETTLIN LUX®.
Create functional refrigerated counters and shopping experiences by using light and textile.
As a divers furnishing specialist in the food sector, AICHINGER implements large projects for shopfittings. In Wendelstein, the company produces individual and trendy concepts for shops by using modern manufacturing engineering.
With "THINK FOOD" as their slogan, AICHINGER presented solutions for mega trends in the food retailing industry at the EuroShop 2020. For the first time, the specialist in the Fresh Food industry showed the new refrigerated counter SIRIUS Swing, which is curved like a snake on a length of 12 m, with light effects integrated into ETTLIN LUX® textiles.
By using energy- efficient LEDs (RGB) behind the textiles, the counter shone with a static green light effect and the characteristic three- dimensional lines of light which emerge through ETTLIN LUX® textiles.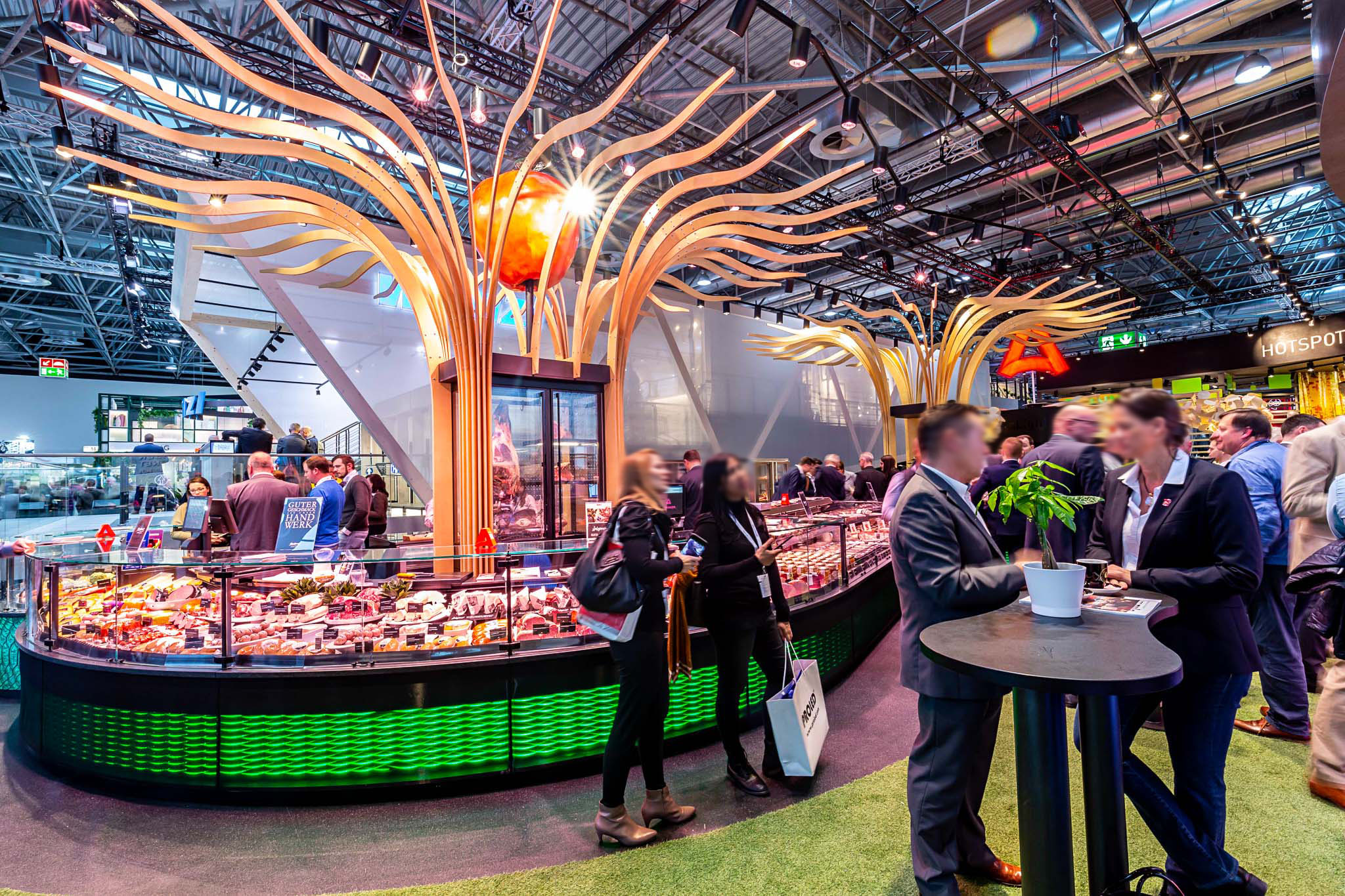 Colours and light effects can be chosen individually.
Light effects in the new and curved refrigerated counter SIRIUS Swing (length 12m) emerge through the unique and patented textile of ETTLIN LUX® .
At EuroShop 2020, AICHINGER also presented the smaller refrigerated counter TopSpot MIO+ for self- serving products. Here as well, textile as lightning technology by ETTLIN LUX® presented goods in an effective and decorative way. Through adequate colours of the LEDs by choice, the counters shone in a light blue shade at the front and, furthermore, with three dimensional light structures of ETTLIN LUX®.
Thanks to enery efficient LEDs at the back, ETTLIN LUX® textiles make the refrigeration equipment series TOPSPOT Mio+ (width of each module: two metres) shine in light blue.
Colours of the back- lit counters can be selected individually, so that retailers have enough freedom to choose suitable colour shades. The new ETTLIN LUX® textiles can be imprinted and therefore are customizable.
Colours by choice behind ETTLIN LUX® textiles offer necessary flexibility in store furnishing.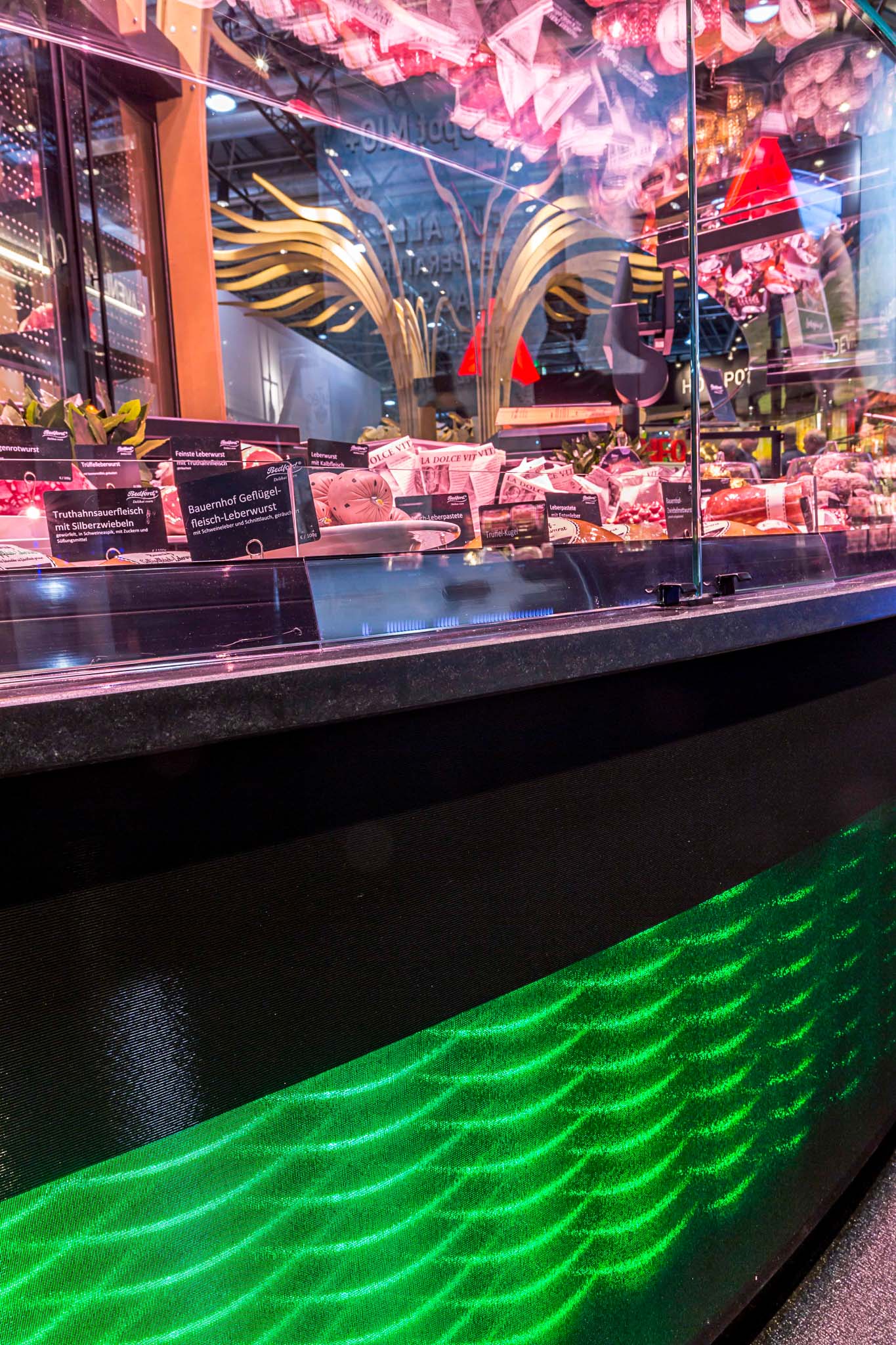 The direction of the light effects varies, depending on the order of the textiles.
Tip: From static to dynamic, and in the most different arrangements and shapes, possible effects can be created individually All this happens as agreed upon with our costumers.