LIGHTING DESIGN FOR THE RESTAURANT OF L'OSTERIA IN DORTMUND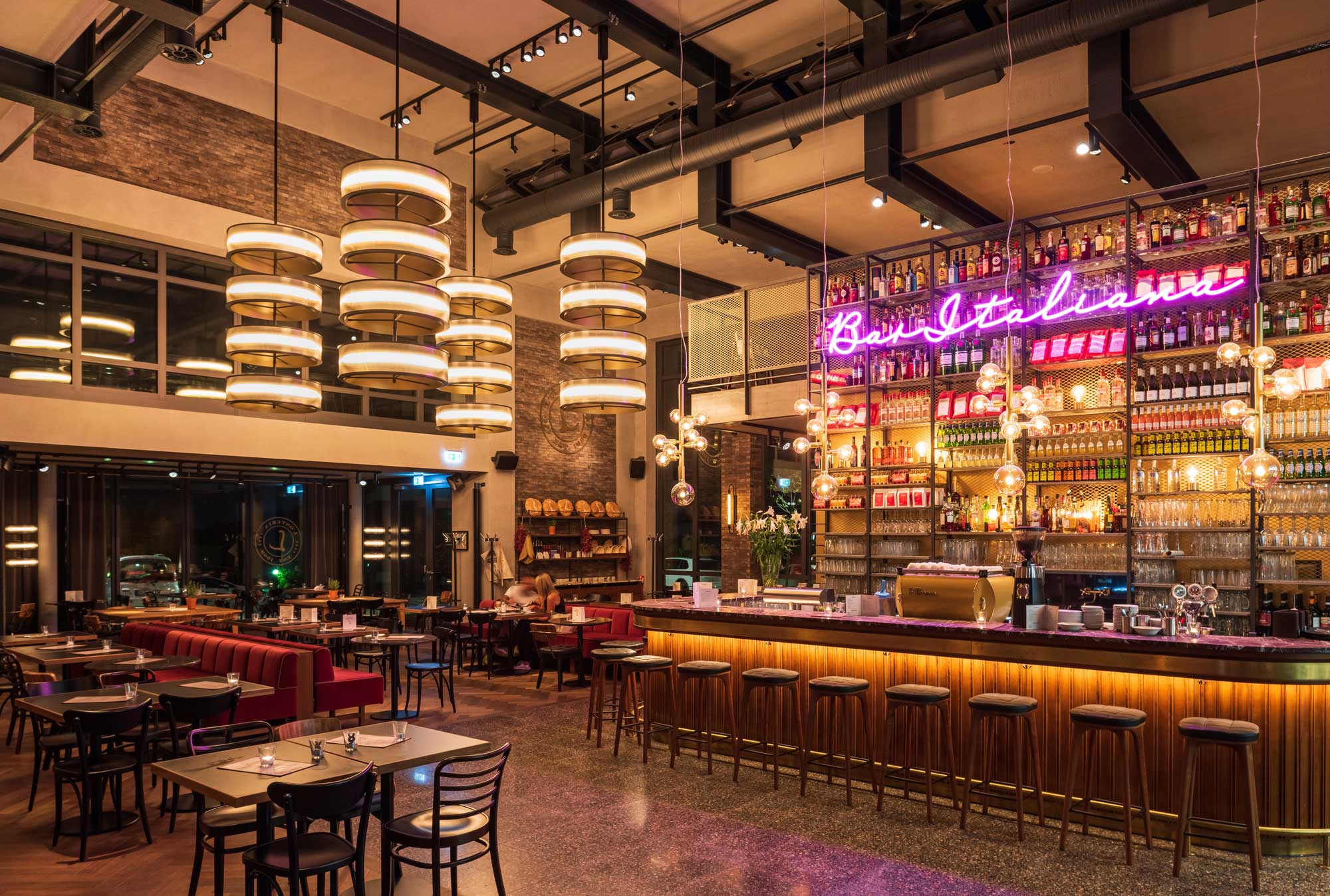 Matrix ring lights with Miracle textile with 1 m diameter and 3D depth effects in the lampshade
Restaurant Lighting with a 3D depth effect illuminates the stylish ambience
Lighting for the restaurants of L'Osteria ensures a pleasant ambience and a magical lighting effect. In two versions, as a pendant and floor lamp, the luminaires give the interior design of the brand gastronomy an exceptional touch. Thanks to its exceptional 3D depth effect, it creates an unexpected eye-catcher in the interior.
Since 1999 the brand of L'Osteria has not only been convincing with authentic Italian cuisine but also with a high-quality restaurant design – attractive architecture and an excellent interior. In over 120 locations, guests can enjoy the famous oversize pizzas and fresh pasta in a stylish and tasteful environment.
The bar, open kitchen and the MATRIX Ring Lights with the lighting textile from ETTLIN LUX®, an area with 220 seats immediately draws attention for all the guests entering the restaurant. The pendant light per ring is equipped with an energy output of 42 watts and a light color of 2400 Kelvin. 20 watts are hidden in the rings of the floor lamp having only forty centimeters in diameter and the same number of Kelvin – both lights are dimmable.
Textile floor lamps in the restaurant of L'Osteria in Dortmund (Europaplatz) create a pleasant atmosphere
The luminaires were designed and developed by Kardorff Ingenieure Lichtplanung and implemented in a high quality product by ETTLIN (ETTLIN LUX® Textile) and Peters Leuchten (body). Presented for the first time in Dortmund, L'Osteria founder Friedemann Findeis was quite amazed by the four-ring pendant lamp that he immediately started planning of installing the unique floor lamps in the restaurant. There are now seven floor lamps in addition to the four pendant lights in L'Osteria Dortmund at Europaplatz.
In addition to the premiere of MATRIX Ring Light with ETTLIN LUX® Textile, Kardorff Ingenieure Lichtplanung provided L'Osteria with professional advice in light and supported throughout the entire implementation process.
A new lighting concept was developed for all new buildings and the existing locations have been replaced with LED. High-quality spotlights and LED lamps with high color rendering replace the previous halogen lights, and new dimming values ensure additional energy savings. Both were carefully planned by Kardorff Ingenieure Lichtplanung to maintain the warm and pleasant quality of light.
Seven textile floor lamps with an extraordinary depth effect provide an unexpected eye-catcher in the interior of the restaurant
By passing by the huge window facades of L´Osteria in Dortmund at Europaplatz at night, the MATRIX ring lights with the luminous ETTLIN LUX® textile are already visible from far away.
The pendant and floor lamp give the interior design of the restaurant a particularly individual touch. Thanks to its exceptional 3D depth effect, they form an unexpected eye-catcher in the interior. In 2019, the Matrix ring light with the ETTLIN LUX® special fabric won the Red Dot Design Award in the Lighting Design category.