LED LIGHT FRAME CUSTOMIZED IN AN ARCHITECTURAL OFFICE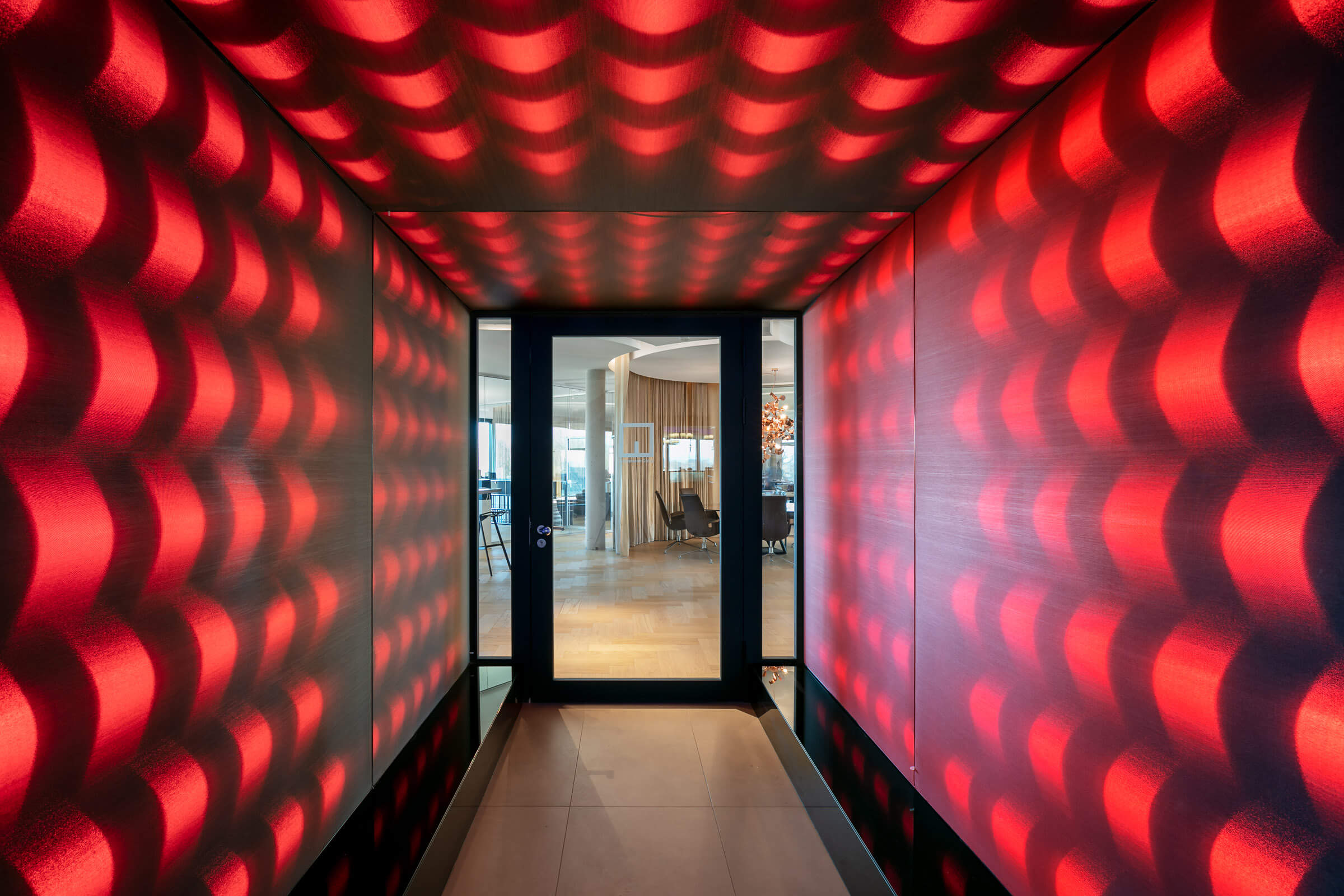 Decolux black (2506) in aluminum frame
An
i
mpressive building for culinary, art and culture
The Grossmann Group, based in Kehl, Strasbourg, Sofia and Abu Dhabi, combines the most important areas of construction. One of its latest projects is the architectural showpiece for culinary, art and culture: the European Forum on the Rhine. The building was designed by architect and entrepreneur Jürgen Grossmann.
The result is impressive rooms with office space of international stature, used by the architectural firm Grossmann Group, among others. The custom-made LED light frames of the ETTLIN LUX® brand are an outstanding eye-catcher.

Decolux black (2506) in aluminum frame
An exceptional architectural office of Grossmann with a view of the LED illuminated frames in the entrance area | Photo: Nikolay Kazakov
Custom-made light frames for attractive reflections of color
The entrance corridor of the Grossmann Group in Kehl is illuminated by a textile LED light frame covered with ETTLIN LUX® textiles. The designers of the textile specialist ETTLIN thus created an attraction for visitors to the office.
The entrance corridor was created with the patented textile Decolux black, back-lit with LEDs to create an impressive lighting effect. ETTLIN LUX® textiles are made of a mixture of PET/PVDF and conform to fire protection class B1.
Fitted into an aluminum frame, the so-called STANDARD frame system from ETTLIN was delivered to Grossmann Group ready-made and mounted by a craftsman on site. In general, the customized LED light frames from ETTLIN LUX® are made up of the following three modules:
Textile Decolux black from ETTLIN LUX®.
Aluminum clamping frame profiles in customized size
and LED light strips with static light effect
The high color and light fastness of the matte surface of Decolux 2506 is captivating | Photo: Nikolay Kazakov
The Decolux textile has low light reflection and appears completely matt when the LEDs are switched off. It also has a soft feel and can be applied both vertically and horizontally.
ETTLIN LUX® textiles are a responding to two ongoing trends in interior design: matte surfaces and smart materials. Decolux is also available in the colors 2508 (white) and 2507 (light grey), which means that the areas of application can be completely diverse.
The Grossmann Group's impressive office spaces in the European Forum on the Rhine in Kehl | Photo: Nikolay Kazakov
Countless energy-saving lighting design options
At Grossmann's office, a combined total of six custom LED lighting framesdecorate the entry corridor. Designed by ETTLIN, each of these was made up with Decolux textiles. In addition, a total of about 72meters of LEDs in aluminum strips are installed in the light frames, bringing forward countless color variations. The LED strips have an power of 15 watts per meter. In particular, these ensure low energy consumption.
The different lighting effects, called "Wide-Effect", are controlled by DALI and is integrated into the existing lighting system.
What makes the custom LED light frames so outstanding?
With the matte, opaque Decolux textiles and a custom-made aluminum frame, large and small areas can be quickly transformed into captivating places. Using LED light sources, the up to 12 cm deep aluminum tension frames are backlit.
As a result, lines of light appear in the horizontally or vertically running textile, which creates a sense of depth.
Do you need some support or inspiration for your next project?
Get in touch with us!
Get in touch with us!

© Photos: Nikolay Kazakov